ESTES VALLEY LAND TRUST - PRESERVING LAND FOREVER
Adopt A Duck to Preserve More Land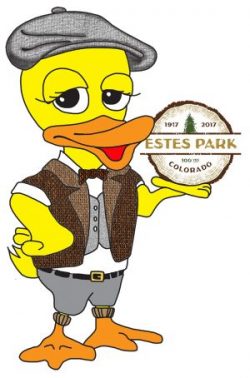 This dapper duck would love to be adopted
by an Estes Valley Land Trust member.
Our good friends at the Rotary Club are hosting the 29th Annual Rotary Duck Race on May 6, 2017. Help us meet our $2,000 fundraising goal and preserve more land in the Estes Valley by adopting a duck or a flock of ducks for a fee of $20 each ($21 for each online adoption). The land trust gets $19 for every adopted duck. We need to adopt over 100 ducks to reach our fundraising goal!
By adopting a duck, you are eligible for Amazing Prizes. Imagine spending a week cruising the Caribbean, sight-seeing in Manhattan or going on a ghost tour in historic Savannah, Georgia. What a great reward for supporting your local land trust.
Estes Valley Land Trust Hiring a Stewardship Intern
The Estes Valley Land Trust is looking for a passionate leader to coordinate our annual stewardship activities. The land trust protects nearly 10,000 acres of land in the Rocky Mountain West and the Stewardship Intern is an integral part of our team.
If you're looking for an exciting (and breathtaking) beginning to your conservation career and want to spend your summer in the Rockies, consider joining the Estes Valley Land Trust. See the SCA website for details and to apply; the deadline is April 9th.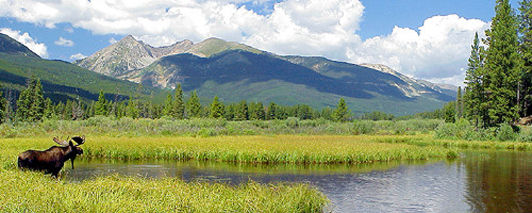 Moose are becoming a common occurrence on some EVLT easements.
Crownover Conservation Easement Forged for 40-year Friendship
Estes Valley Land Trust is pleased to announce that it has closed on a second newly conserved property in late 2016. The Crownover Conservation Easement, located on Jacob Road near Little Valley, has been forty years in the making.
Leo Weber, Estes Valley Land Trust Vice President, first met Norris and Judy Crownover in 1976, as a young woodworker. "Norris was gracious and shared his cabin with me," Weber said.
"I was a young guy and had just moved to Estes Park. I was living out of a van and Norris offered to let me stay in his cabin," recalled Weber. "I couldn't pass up the offer."
Now the cabin, and the forty acres on which it sits, are permanently protected with a conservation easement held by the Estes Valley Land Trust. The easement closed on December 9, 2016.
The Crownover Conservation Easement has dramatic views into the East Fork of Fish Creek and Little Valley. Also it can be seen from prominent recreational areas, including Twin Sisters Peaks in Rocky Mountain National Park, The Crags, and Kruger Rock in Hermit Park Open Space.
Continue reading…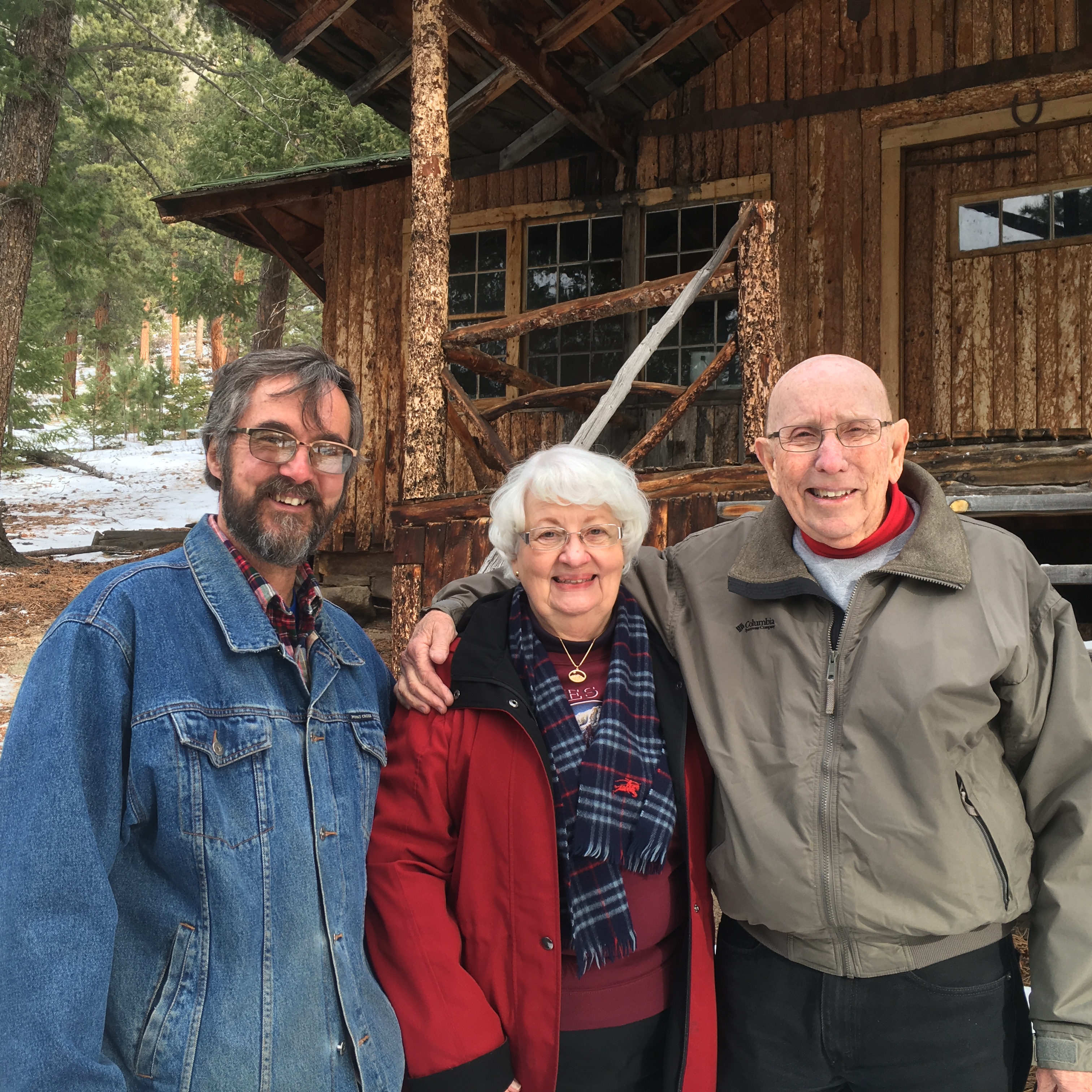 Pictured Left to Right: Leo Weber, Judy Crownover and Norris Crownover
Additional Land at Elk Park Ranch Conserved!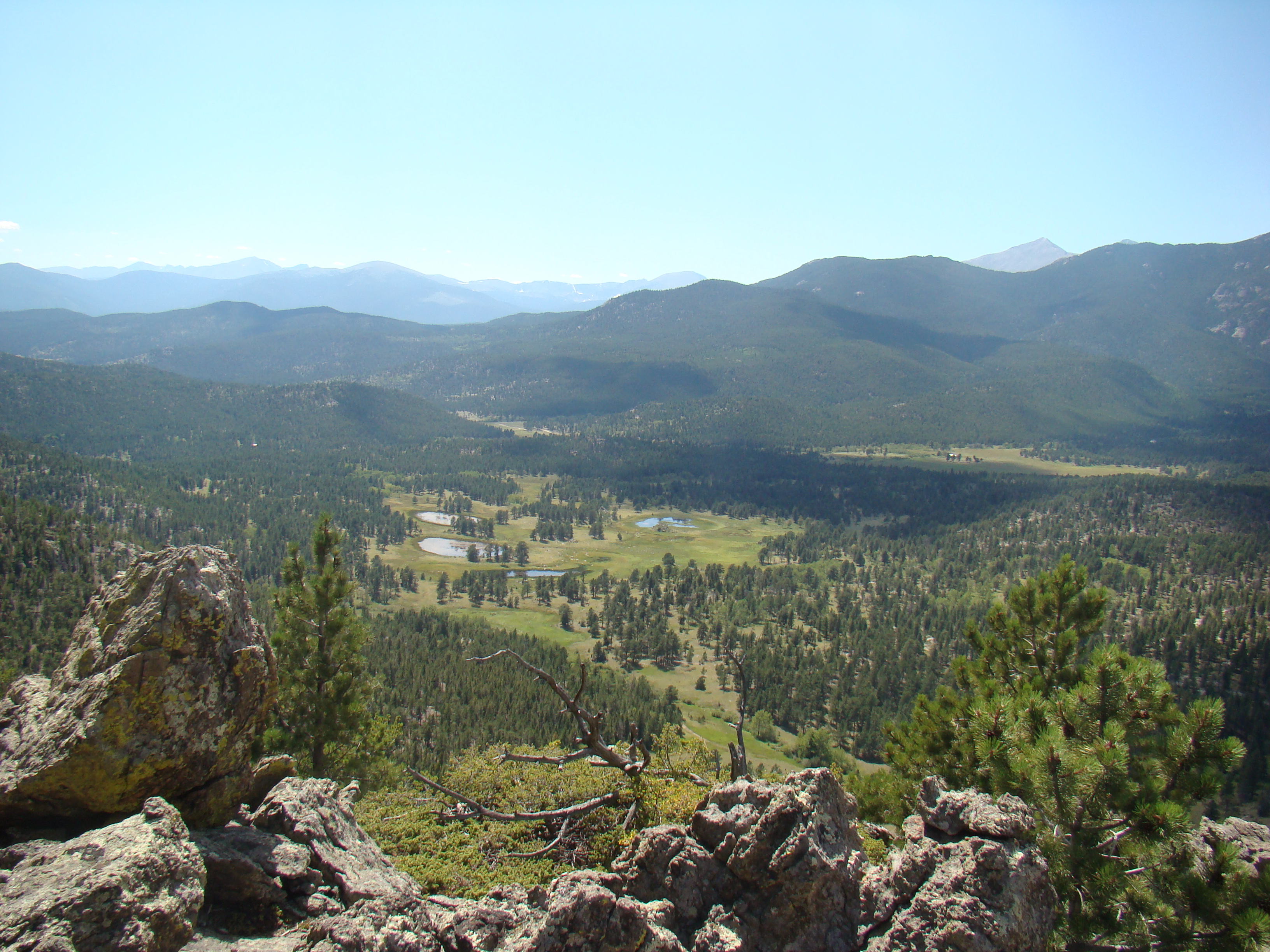 Another portion of historic Elk Park Ranch, a large, intact working ranch in the valley east of Twin Sisters Peaks, is protected forever, through a conservation easement held by the Estes Valley Land Trust.
The land trust closed on the new 35-acre conservation easement on November 22nd.
Elk Park Ranch was established in the late 1800s and has been owned by members of the Smitherman family since the 1960s. Since 1998, the land trust has worked with the Smithermans to protect more than 1,200 acres of the original ranch.
Donna Ellis, the daughter of Don and Ruth Smitherman and current Elk Park Ranch owner, expressed her gratitude to the Estes Valley Land Trust for protecting what she loves about the ranch: the incredible natural beauty. "Working with the Estes Valley Land Trust has allowed me to keep the ranch intact and in the family, while preserving its beauty and wildness," Ms. Ellis said.
Our mission is to preserve and protect open space, valleys, wetlands, streams, ranch lands, and wildlife habitat in the Estes Valley and surrounding area.
The Land Trust Accreditation Commission first offered land trust accreditation in 2008, and EVLT was one of a prestigious first group of 39 land trusts (out of over 1,500) to be awarded this designation. The Commission awards accreditation to land trusts that demonstrate compliance with each of twelve accreditation indicator practices drawn from Land Trust Standards and Practices, the ethical and technical guidelines for the responsible operation of a land trust.  More...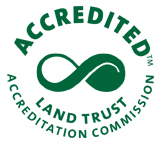 For generations, people have recognized that there is something special in the Estes Valley—something not found elsewhere, something intimately linked to the pristine beauty of the area's natural landscapes.
Our role is to be good stewards and custodians of the land. Help EVLT uphold our promise to protect, preserve, honor and serve nature in our little corner of the Rocky Mountains. By working together we can share tomorrow.