ESTES VALLEY LAND TRUST - PRESERVING OPEN SPACE FOR FUTURE GENERATIONS

Crownover Conservation Easement Forged by 40-year Friendship
Estes Valley Land Trust is pleased to announce that it has closed on a second newly conserved property in late 2016. The Crownover Conservation Easement, located on Jacob Road near Little Valley, has been forty years in the making.
Leo Weber, Estes Valley Land Trust Vice President, first met Norris and Judy Crownover in 1976, as a young woodworker. "Norris was gracious and shared his cabin with me," Weber said.
"I was a young guy and had just moved to Estes Park. I was living out of a van and Norris offered to let me stay in his cabin," recalled Weber. "I couldn't pass up the offer."
Now the cabin, and the forty acres on which it sits, are permanently protected with a conservation easement held by the Estes Valley Land Trust. The easement closed on December 9, 2016.
The Crownover Conservation Easement has dramatic views into the East Fork of Fish Creek and Little Valley. Also it can be seen from prominent recreational areas, including Twin Sisters Peaks in Rocky Mountain National Park, The Crags, and Kruger Rock in Hermit Park Open Space.
Continue reading…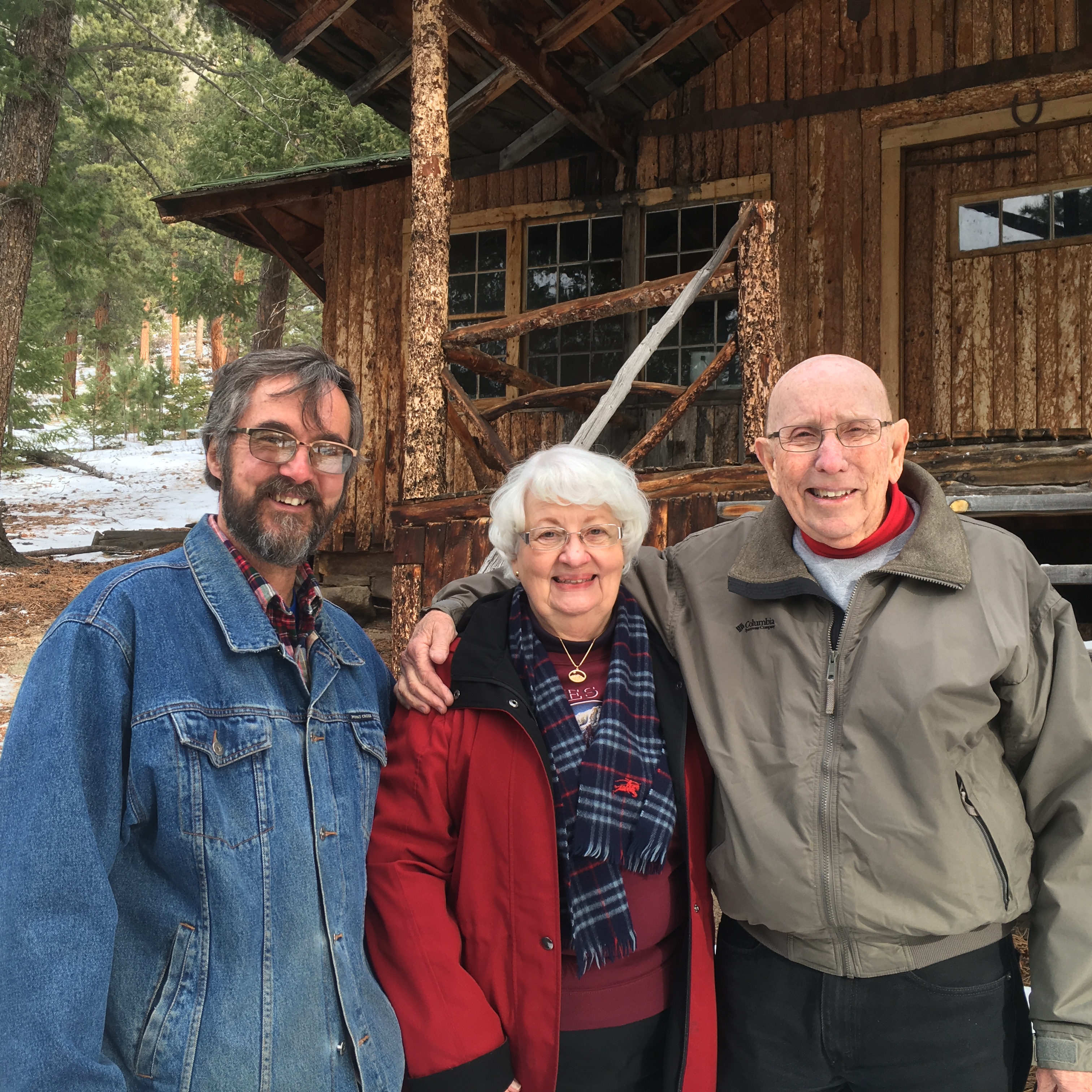 Pictured Left to Right: Leo Weber, Judy Crownover and Norris Crownover

Additional Land at Elk Park Ranch Conserved!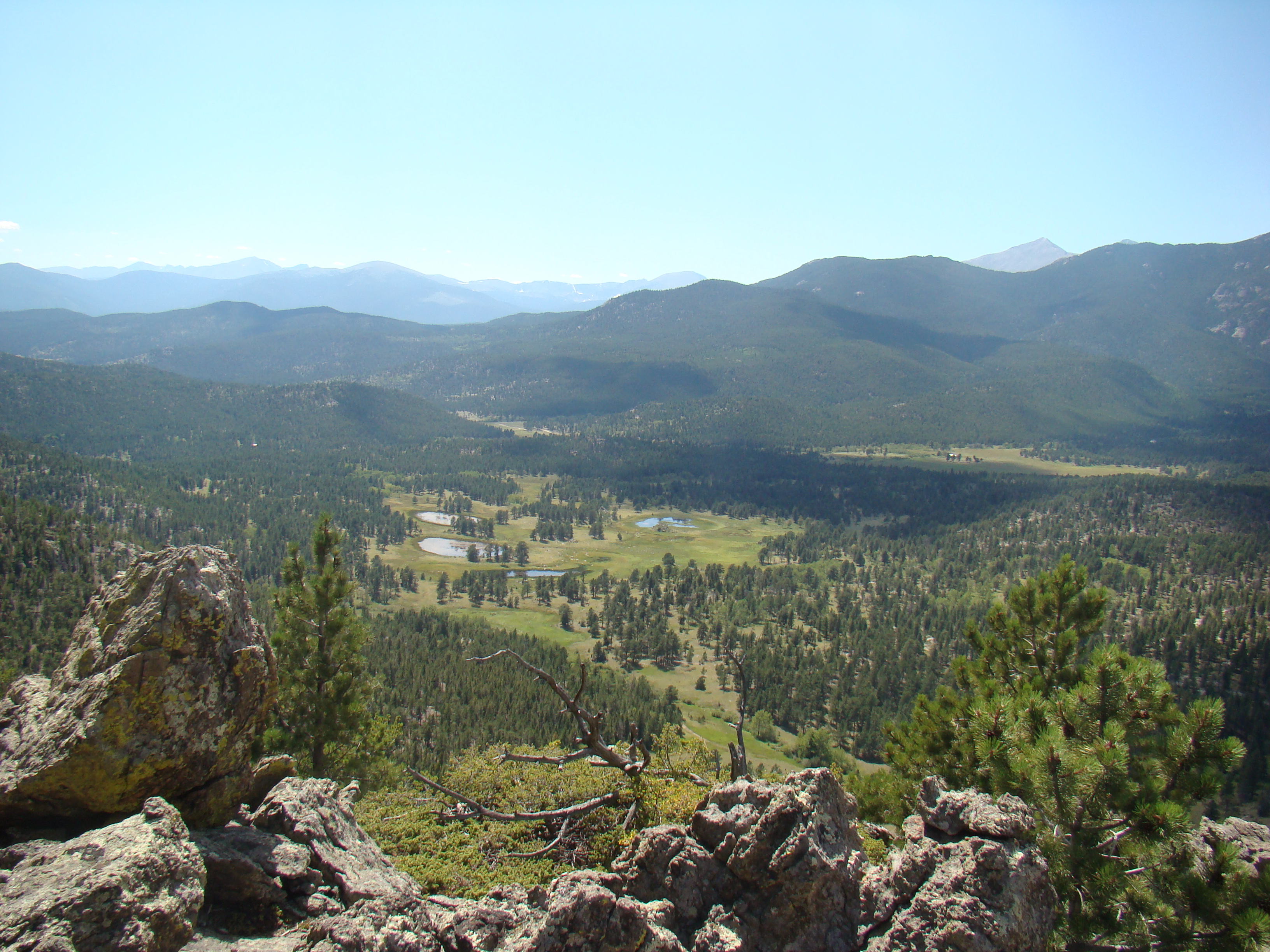 Another portion of historic Elk Park Ranch, a large, intact working ranch in the valley east of Twin Sisters Peaks, is protected forever, through a conservation easement held by the Estes Valley Land Trust.
The land trust closed on the new 35-acre conservation easement on November 22nd.
Elk Park Ranch was established in the late 1800s and has been owned by members of the Smitherman family since the 1960s. Since 1998, the land trust has worked with the Smithermans to protect more than 1,200 acres of the original ranch.
Donna Ellis, the daughter of Don and Ruth Smitherman and current Elk Park Ranch owner, expressed her gratitude to the Estes Valley Land Trust for protecting what she loves about the ranch: the incredible natural beauty. "Working with the Estes Valley Land Trust has allowed me to keep the ranch intact and in the family, while preserving its beauty and wildness," Ms. Ellis said.
Preservation happens one piece at a time … one decision at a time … one commitment at a time.
As of Monday, May 16, 2016 Jeffrey Boring assumes the position of Executive Director of Estes Valley Land Trust.
According to Board President Leo Weber, "We had numerous outstanding applicants for the position but were most impressed with Jeffrey's considerable experience, knowledge, and passion for conservation. We are confident that he will be a great match for the work, staff, and friends of EVLT as we continue to advance our mission to preserve the unique landscapes of the Estes Valley."
Jeffrey's work in the conservation field began 18 years ago with The Nature Conservancy in Georgia, helping direct a land protection campaign that targeted land acquisition along the 180-mile Chattahoochee River. This experience included partnering with State agencies, private landowners, and The Trust for Public Land and was instrumental in forming his conservation ethic and career.
After completing his master's degree in Conservation Ecology, Jeffrey served as the Director of Conservation at Athens Land Trust before moving to Colorado in 2004 to manage a water quality monitoring program for the Big Thompson Watershed Forum. For the past 8 years, Jeffrey served as an Open Lands Resource Specialist in the Larimer County Natural Resources Department. In this position he has been part of a conservation team that has protected more than 43,000 acres of land within the county.
Jeffrey's experience working for two land trusts and a local open space program provides a strong foundation in conservation and a set of skills that will benefit EVLT. He has developed strong working relationships with organizations that are critical to the success of EVLT, such as the Town of Estes Park, Rocky Mountain National Park, and Colorado Coalition of Land Trusts.
"After nearly two decades working in the conservation field, I understand the unique opportunity this job opening provides," states Jeffrey. "I believe deeply in your mission to protect open space for future generations. My unique set of experiences, skills and passion for conservation has prepared me to continue the impressive and inspiring work of the Estes Valley Land Trust."
Jeffrey steps in as the new Executive Director on May 16, replacing Mary Banken who will be retiring after nine years with EVLT. Please stop by to meet Jeffrey at one of our EVLT events or at the EVLT office at 1191 Woodstock in Estes Park.
Our mission is to preserve and protect open space, valleys, wetlands, streams, ranch lands, and wildlife habitat in the Estes Valley and surrounding area.
The Land Trust Accreditation Commission first offered land trust accreditation in 2008, and EVLT was one of a prestigious first group of 39 land trusts (out of over 1,500) to be awarded this designation. The Commission awards accreditation to land trusts that demonstrate compliance with each of twelve accreditation indicator practices drawn from Land Trust Standards and Practices, the ethical and technical guidelines for the responsible operation of a land trust.  More...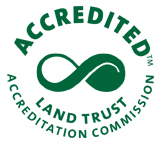 For generations, people have recognized that there is something special in the Estes Valley—something not found elsewhere, something intimately linked to the pristine beauty of the area's natural landscapes.
Our role is to be good stewards and custodians of the land. Help EVLT uphold our promise to protect, preserve, honor and serve nature in our little corner of the Rocky Mountains. By working together we can share tomorrow.