ESTES VALLEY LAND TRUST - PRESERVING LAND FOREVER
What a Year! More Land Protected!
Our Fall 2017 Newsletter has arrived, just in time for the holidays!
2017 was an incredible year. We celebrated our 30th Anniversary in quintessential Estes Park style, with a BBQ, live music and a great anniversary party. Our members are incredible and we wanted to thank you with a big outdoor party.
We were also busy finalizing our newest conservation easement. The Posey conservation easement has been in the works for quite a while. Check out our feature article to better understand how land conservation can be more like a marathon, than a sprint.
We hope you can celebrate a great year with us at our Holiday Party on December 7th, 4-6 PM at The Historic Crags Lodge. We plan to have scrumptious hors d'oeurves and a cash bar. Please RSVP by November 29th so you don't lose your spot!
See the back cover of our newsletter for all the details.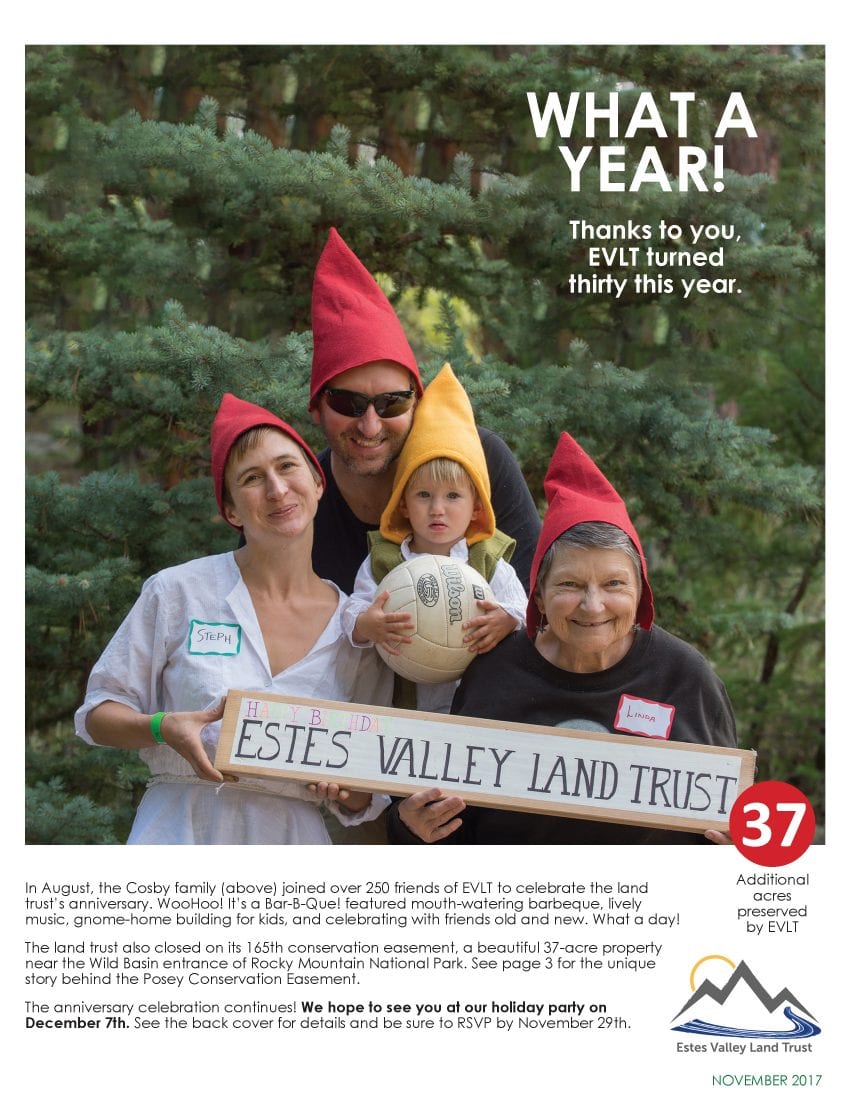 30th Anniversary Party Huge Hit, YOU Made it Possible!

The WooHoo! It's a Bar-B-Que! was a HUGE hit!
The Estes Valley Land Trust celebrated our 30th year with more than 250 people at the O'Connor Picnic Pavilion in Estes Park. We're talking s'mores with handmade, gourmet marshmallows, bar-b-que by Smokin' Dave's, beer by Rockcut Brewery, wine from Snowy Peaks Winery, music by Chain Station and a big 'ole birthday cake. All for $5. Wow!
The key to our success and the reason we've been a mainstay in the Estes Park community is YOU, our members. Your love for open space and the generous support you provide the land trust for the past 30 years is inspiring. We wanted to thank you with an affordable good time, surrounded by friends.
And thanks to our many sponsors that made this event affordable. In addition to the food and beverage sponsors listed above, First Colorado Realty, Tax Credit Connection, Scott Thompson, RE/MAX, Mary Lamy, Hobert Office Services, Van Horn Engineering, Estes Valley Board of Realtors, Larimer County Natural Resources, River Rock Cottages, The Trust for Public Land, Town of Estes Park, Rotary Club, Sunrise Rotary and Kind Coffee all sponsored the event.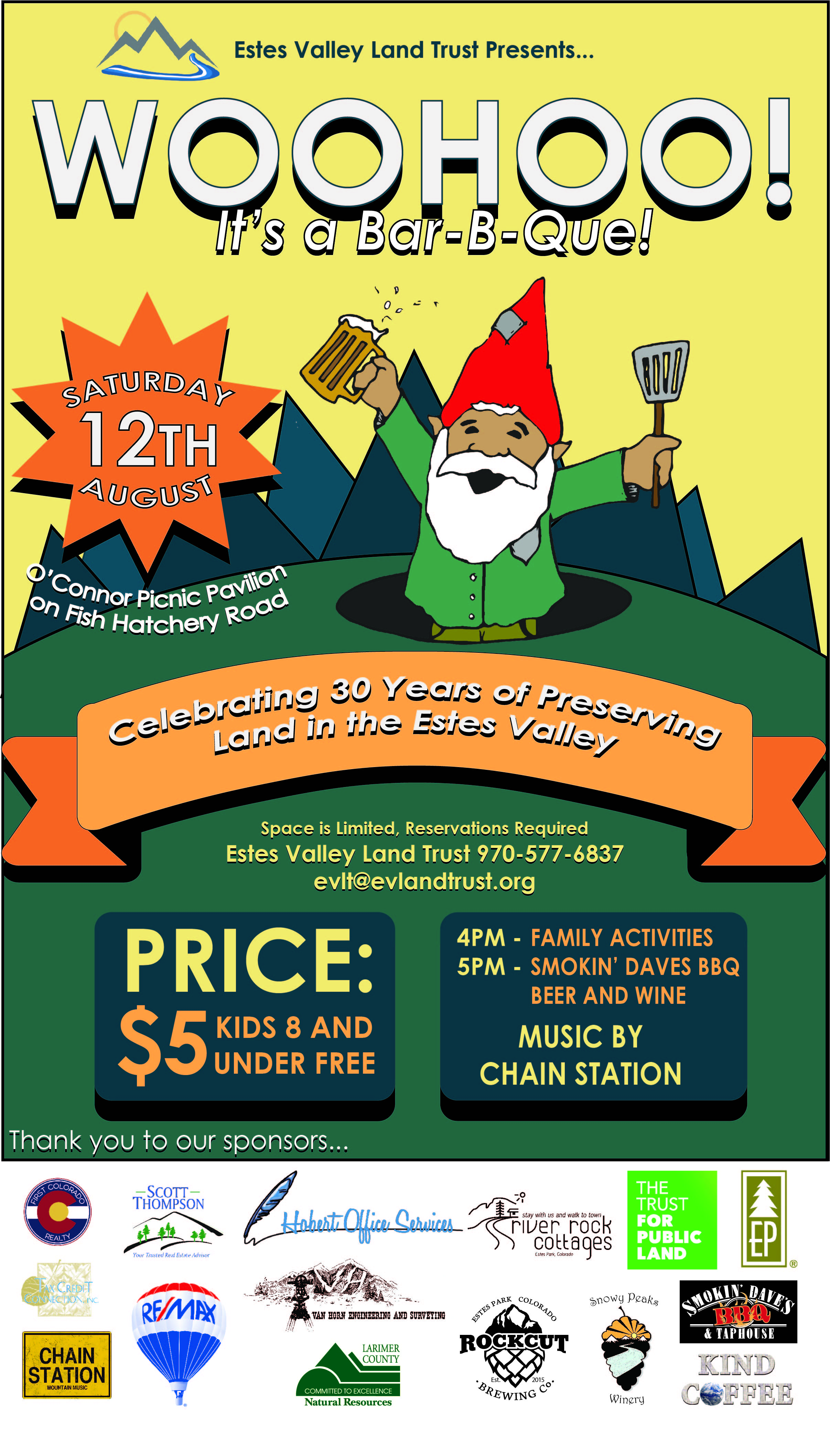 Crownover Conservation Easement Forged from 40-year Friendship
Estes Valley Land Trust is pleased to announce that it has closed on a second newly conserved property in late 2016. The Crownover Conservation Easement, located on Jacob Road near Little Valley, has been forty years in the making.
Leo Weber, Estes Valley Land Trust Vice President, first met Norris and Judy Crownover in 1976, as a young woodworker. "Norris was gracious and shared his cabin with me," Weber said.
"I was a young guy and had just moved to Estes Park. I was living out of a van and Norris offered to let me stay in his cabin," recalled Weber. "I couldn't pass up the offer."
Now the cabin, and the forty acres on which it sits, are permanently protected with a conservation easement held by the Estes Valley Land Trust. The easement closed on December 9, 2016.
The Crownover Conservation Easement has dramatic views into the East Fork of Fish Creek and Little Valley. Also it can be seen from prominent recreational areas, including Twin Sisters Peaks in Rocky Mountain National Park, The Crags, and Kruger Rock in Hermit Park Open Space.
Continue reading…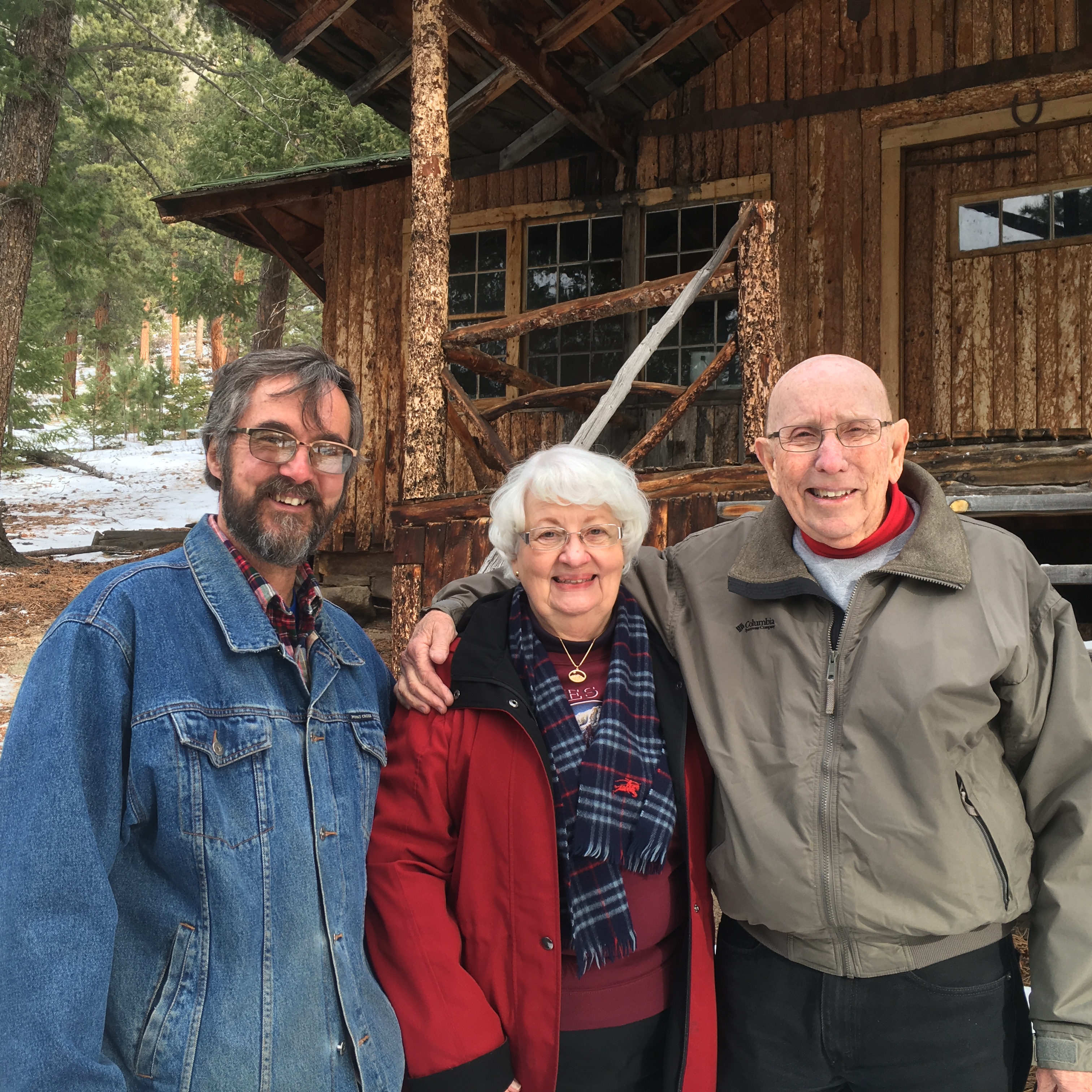 Pictured Left to Right: Leo Weber, Judy Crownover and Norris Crownover
Additional Land at Elk Park Ranch Conserved!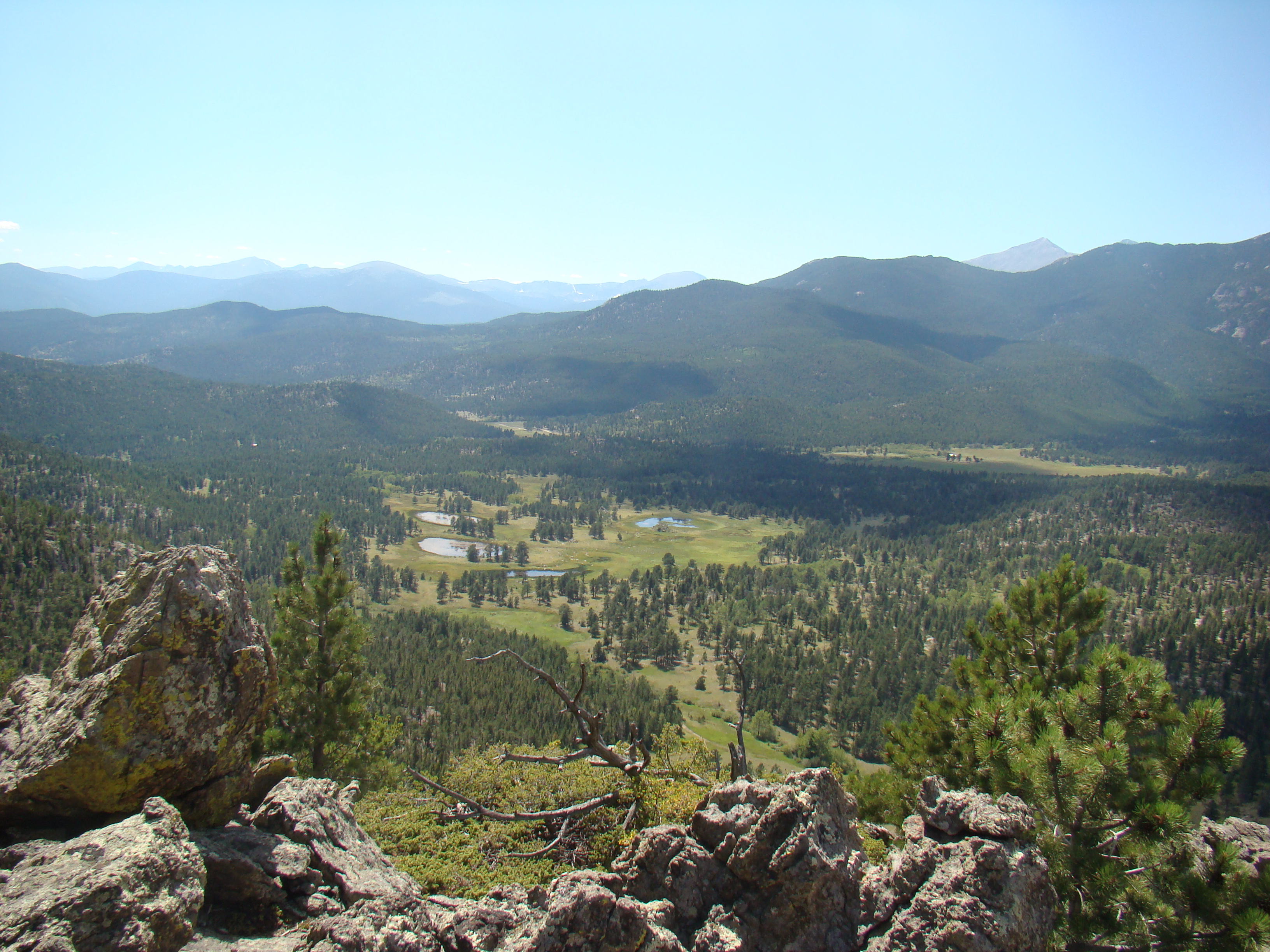 Another portion of historic Elk Park Ranch, a large, intact working ranch in the valley east of Twin Sisters Peaks, is protected forever, through a conservation easement held by the Estes Valley Land Trust.
The land trust closed on the new 35-acre conservation easement on November 22nd.
Elk Park Ranch was established in the late 1800s and has been owned by members of the Smitherman family since the 1960s. Since 1998, the land trust has worked with the Smithermans to protect more than 1,200 acres of the original ranch.
Donna Ellis, the daughter of Don and Ruth Smitherman and current Elk Park Ranch owner, expressed her gratitude to the Estes Valley Land Trust for protecting what she loves about the ranch: the incredible natural beauty. "Working with the Estes Valley Land Trust has allowed me to keep the ranch intact and in the family, while preserving its beauty and wildness," Ms. Ellis said.
Our mission is to preserve and protect open space, valleys, wetlands, streams, ranch lands, and wildlife habitat in the Estes Valley and surrounding area.
The Land Trust Accreditation Commission
first offered land trust accreditation in 2008, and EVLT was one of a prestigious first group of 39 land trusts (out of over 1,500) to be awarded this designation. The Commission awards accreditation to land trusts that demonstrate compliance with each of twelve accreditation indicator practices drawn from Land Trust Standards and Practices, the ethical and technical guidelines for the responsible operation of a land trust.  
More..
.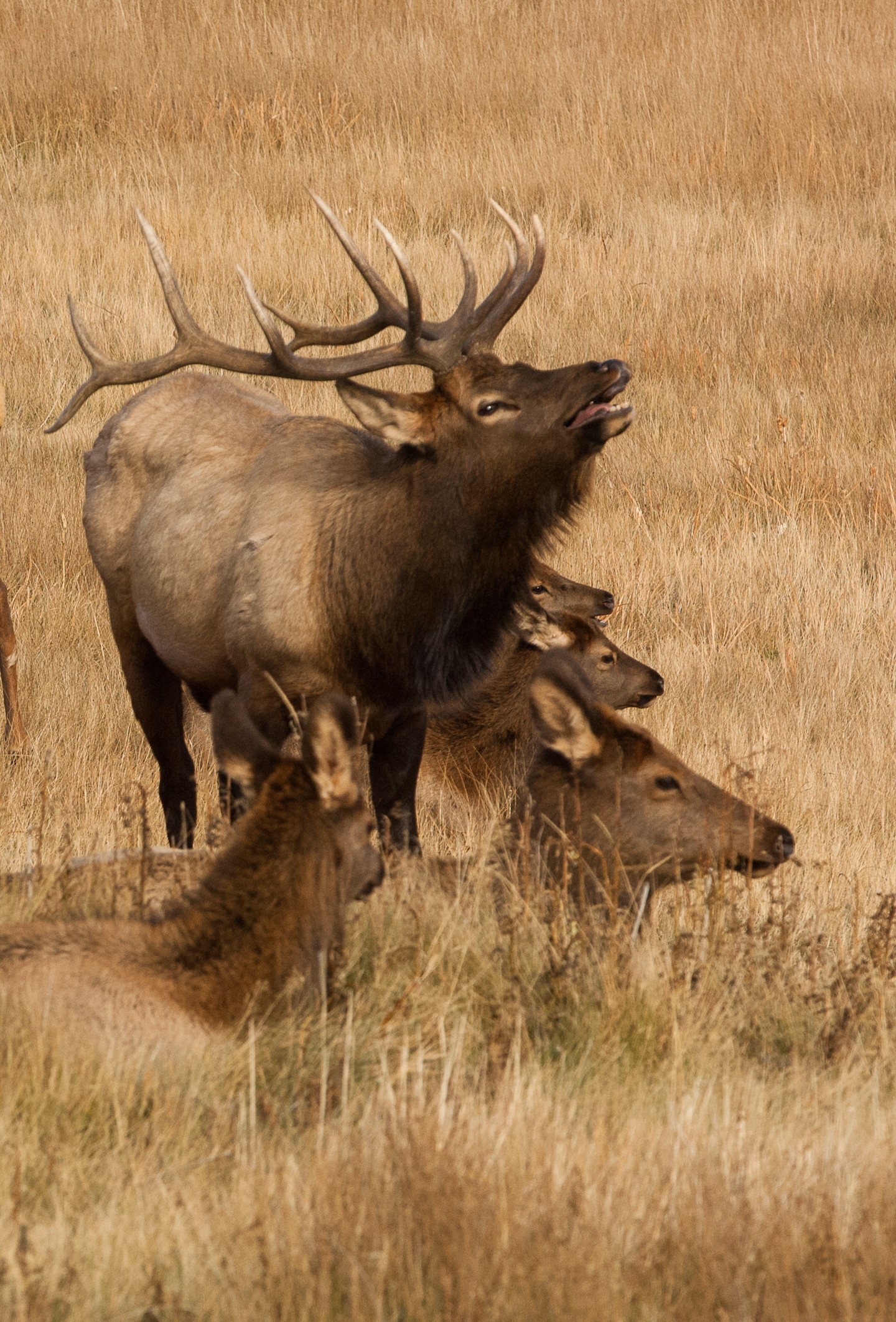 For generations, people have recognized that there is something special in the Estes Valley—something not found elsewhere, something intimately linked to the pristine beauty of the area's natural landscapes.
Our role is to be good stewards and custodians of the land. Help EVLT uphold our promise to protect, preserve, honor and serve nature in our little corner of the Rocky Mountains. By working together we can share tomorrow.