ESTES VALLEY LAND TRUST - PRESERVING LAND FOREVER
 Register Now for our August 13th Breakfast 
Registration for our August Breakfast, Canine Search and Rescue in Estes, is officially open! 
K9s have an important role to play in local emergency services. Join us at our August breakfast and meet local search and rescue dog Kizzie and her handler Jeff Liddle, and Loveland Police K9s Shadow and JoJo and their handler Sgt. Steven Colburn. Through stories and demonstrations, our guest presenters will share the ways they assist with search and rescue efforts and subdue criminals.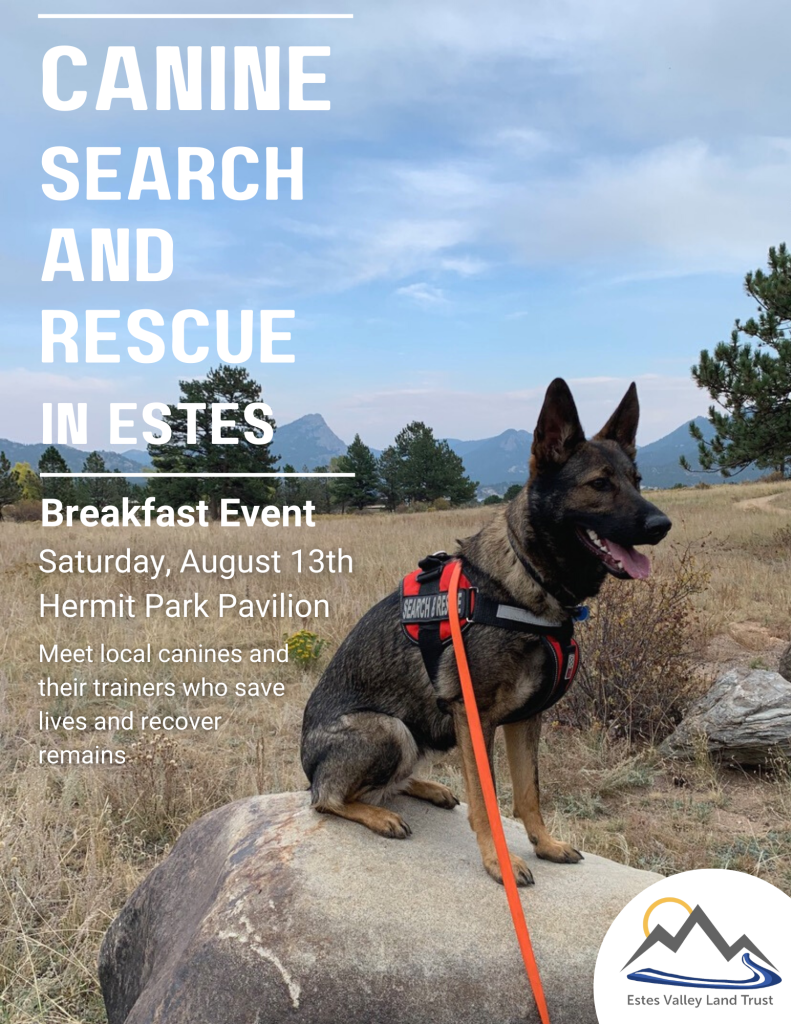 Summer Newsletter Now Available
Click below to view the digital version of our summer newsletter. Members will receive a printed version in their mailboxes.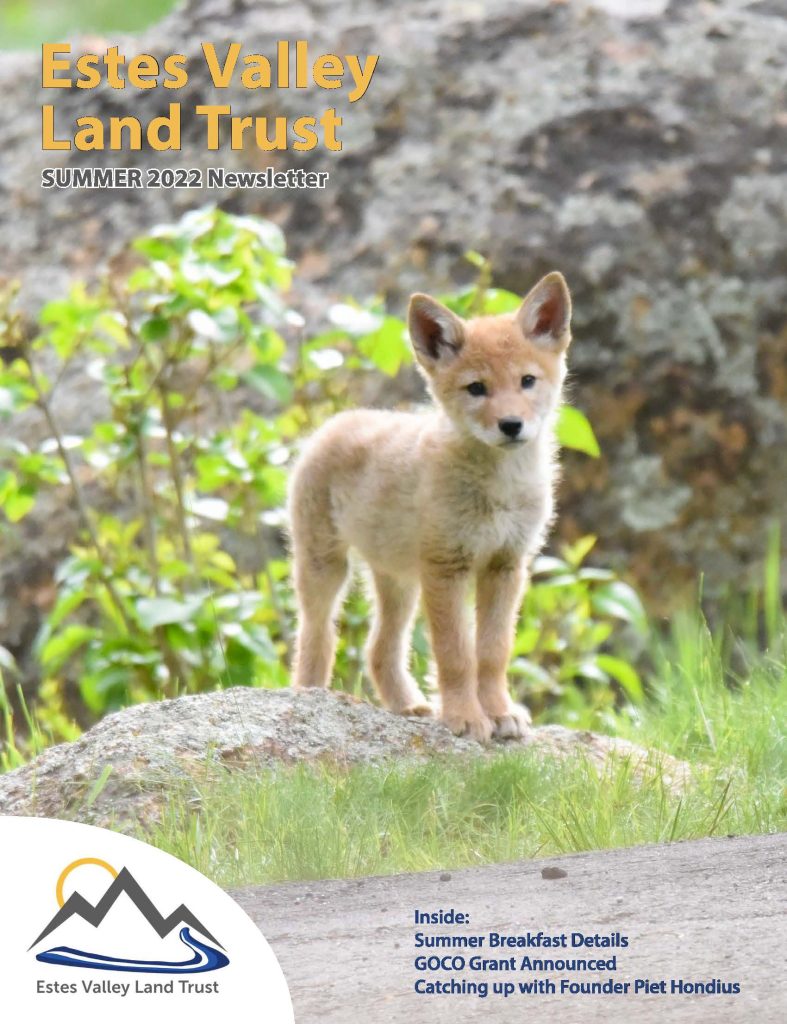 Mark Your Calendar for Our Summer Member Breakfasts
Each year, we host educational events for our dedicated members. Through guest speakers, we aim to present engaging content related to the environment and community of the Estes Valley. This year, we are hosting two in-person member breakfasts on July 16th and August 13th. See the flyer below for more information.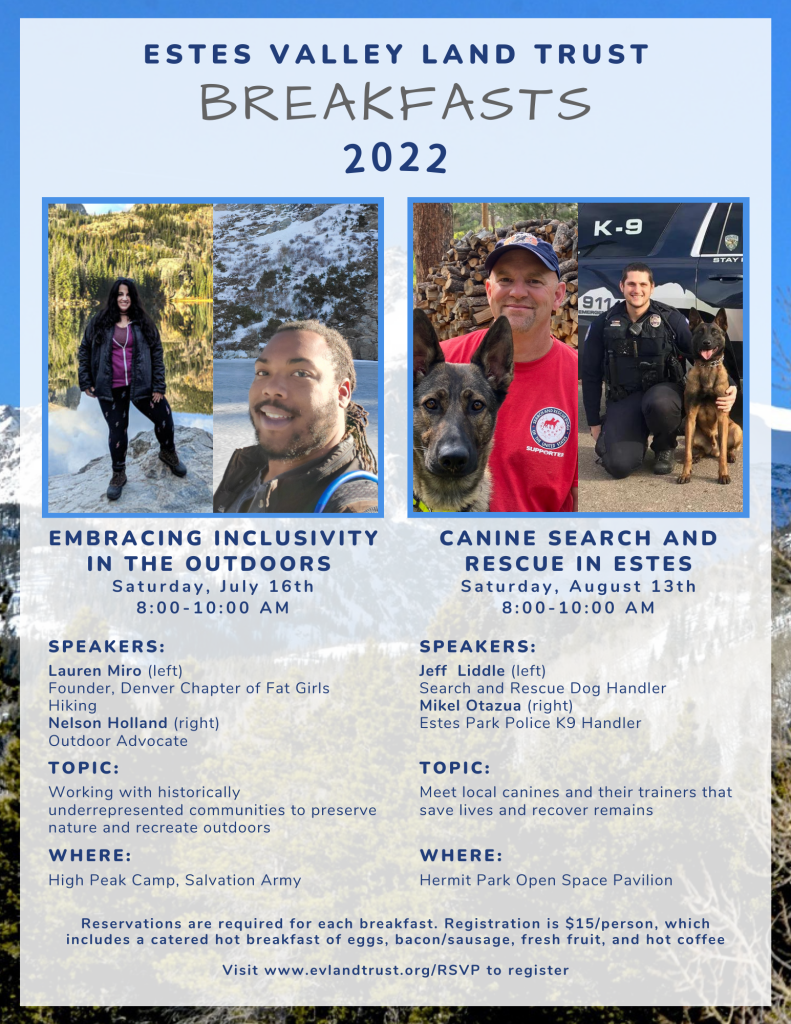 Estes Valley Open Space Plan
For more than 30 years, the Estes Valley Land Trust has worked with private landowners and our partners to preserve nearly 10,000 acres of land. Now, for the first time, we have developed the Estes Valley Open Space Plan, a strategic land conservation plan with a goal to preserve another 5,000 acres in the next 10 years.
Thank you to everyone that came to events, filled out surveys, and submitted feedback to make this plan happen. This plan was created by our community, for our community, to preserve the areas that we value the most. Watch a short video about the final plan here, or click here to read the full plan. 
Our mission is to conserve land throughout the Estes Valley and surrounding areas for current and future generations.
$3,932,000
Needed
$

1,068,000
Raised
The Estes Valley Land Trust is proud to announce that we met our immediate goal of $1 million for the Perpetuity Fund at the end of 2021. Thank you to all of our supporters who helped us reach this goal!
With more than 4.5 million visitors coming to Estes Park each year, our open lands, wildlife and quality of life are at risk. The Perpetuity Fund is an endowment that would allow the land trust to operate in perpetuity, to continue to support local landowners and conserve open spaces throughout the valley. Our ultimate goal is to raise $5 million for the endowment, which would provide sufficient funds to support the land trust year after year. Be a part of forever and donate today

.