DONATE TO PRESERVE THE ESTES VALLEY
Your donation makes a visible difference in the valley. 
Estes Park, the "Gateway to Rocky Mountain National Park", is home to 6,000 year-round residents and welcomes millions of visitors every summer. It is also year-round habitat for elk, bears, deer, and other wildlife.
The Estes Valley Land Trust protects lands in the valley that offer exceptional scenic and habitat value. This protected land preserves a high quality of life for residents and visitors alike. 
 By donating to the Estes Valley Land Trust you become a member, receive invitations to upcoming events, two free land trust breakfast coupons and our bi-annual newsletters.
Forever Estes Circle
Leave a Legacy that Lasts Forever
A planned gift is any major gift, made in lifetime or at death as part of a donor's overall financial and/or estate planning. By contrast, gifts to the annual fund or for membership dues are made from a donor's discretionary income and, while they may be budgeted for, they are not "planned."
Whether a donor uses cash, appreciated securities/stock, real estate, artwork, partnership interests, personal property, life insurance, a retirement plan, etc., the benefits of funding a planned gift can make this type of charitable giving very attractive both to the donor and to EVLT.
The most common options include gifts of stock, charitable remainder trusts, and bequests.  Each has unique advantages.
Gifts of stock 

Gifting appreciated stock that you have owned for more than one year can provide you with many benefits including avoidance of capital gains taxes and a charitable income tax deduction for the fair market value of that stock on the date of gift.

Charitable remainder trusts 

A charitable remainder trust will provide income for you and your beneficiaries throughout your lifetime and a gift to the Land Trust on the death of the last beneficiary. The actuarial value of the trust at the time the trust was established may be used as an immediate tax deduction.

Bequests 

The Land Trust can be named as a beneficiary in your will. An unrestricted bequest provides monies to support the Land Trust's mission.  Bequests can also be designated for stewardship.

What are the benefits to me and my family if I make a bequest to Estes Valley Land Trust?
Under current tax law, if your estate will be subject to estate taxes, a bequest qualifies as a charitable deduction, which may lower your overall estate tax obligations. If you have an IRA or qualified retirement plan, deferred income taxes must be paid at your death if the beneficiary is other than your spouse. By designating the Land Trust as a beneficiary (or a contingent beneficiary if your spouse predeceases you), you may minimize such taxes. In addition to providing funds to help fulfill the Land Trust's mission, your family may, under certain circumstances, realize a greater portion of your estate's distribution.
Is it difficult to make a bequest to Estes Valley Land Trust?
Not at all! There are many options that are quick and easy. Include Estes Valley Land Trust in your will as a charitable beneficiary. If you have a retirement plan or a life insurance policy, simply add Estes Valley Land Trust as a beneficiary. If you have any questions, consult with your attorney and C.P.A to establish the most effective vehicle for your giving.
I consider this private information. Is it necessary for Estes Valley Land Trust to know my plan?
It is not essential for Estes Valley Land Trust to know your estate plans in advance, but it can be very helpful, particularly if you wish to support a specific program through your bequest. We respect your privacy and the revocable nature of your provision, but often we can help you to be sure that your bequest will properly meet your objectives and be of maximum benefit to the Land Trust.
Does this sound like it might be for you? Contact us and we can send you additional materials that describe options for you.
Perpetuity Fund
Preserving Land in the Estes Valley for Future Generations
Forever is a long time, and our forward-thinking Board of Directors saw a need to protect the land trust into perpetuity so our conservation easements can always be protected, now and forever. An endowment is the best way to ensure that we will be around every day to protect the lands we love.
You can be a part of this protection by making a gift to our endowment, called the Perpetuity Fund. Our goal is $5 million, enough to support the majority of our operating expenses each year. Want to learn more or make a gift? Contact the land trust today.
Amazon Smile
Support EVLT without paying a penny!
Amazon donates .5% of each purchase you make on Amazon when you shop from smile.amazon.com and select the Estes Valley Land Trust as your charity.
Sign up here: smile.amazon.com/ch/74-2465136

Colorado Gives
A day of charity across the state!
Colorado Gives Day is the Tuesday in December following Giving Tuesday, where Coloradans across the state support the chaities that make this state so great. This is the biggest fundraising day of the whole year for EVLT.
You can donate all year long through ColoradoGives.org and schedule your donation to support the land trust.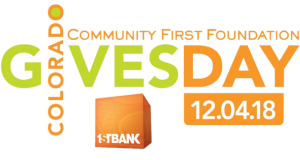 In-Kind and Partnerships
Community-Supported Conservation
Many local businesses generously donate time, products, and money to the Estes Valley Land Trust. Food, drinks, and event space are the most common in-kind donations, others have started fundraisers for us or offered discounts for non-profits.
If you want to help preserve the valley by partnering or donating, contact us!
2018 Annual Report and IRS 990
Organizational Transparency
The Estes Valley Land Trust has released an annual report for the 2018 calendar year for the benefit of our members and donors.