DONATE TO PRESERVE THE ESTES VALLEY
Your donation makes a visible difference in the valley. 
Estes Park, the "Gateway to Rocky Mountain National Park", is home to 6,000 year-round residents and welcomes millions of visitors every summer. It is also year-round habitat for elk, bears, deer, and other wildlife.
The Estes Valley Land Trust protects lands in the valley that offer exceptional scenic and habitat value. This protected land preserves a high quality of life for residents and visitors alike. 
 By donating to the Estes Valley Land Trust you become a member, receive invitations to upcoming events, two free land trust breakfast coupons and our bi-annual newsletters.
Tax ID Number 74-2465136
2022 IRS Form 990
Organizational Transparency
The Estes Valley Land Trust has released an annual Form 990 for the benefit of our members and donors.
Perpetuity Fund
Preserving Land in the Estes Valley for Future Generations
Forever is a long time, and our forward-thinking Board of Directors saw a need to protect the land trust into perpetuity so our conservation easements can always be protected, now and forever. An endowment is the best way to ensure that we will be around every day to protect the lands we love.
You can be a part of this protection by making a gift to our endowment, called the Perpetuity Fund. Our goal is $5 million, enough to support the majority of our operating expenses each year. Want to learn more or make a gift? Contact the land trust today.
Forever Estes Circle
Leave a Legacy that Lasts Forever
Once your loved ones are provided for, consider a gift in your will or trust, or by beneficiary designation. These gifts cost you nothing now. You can change your beneficiaries at any time. And you make a powerful statement about preserving our environment that will last for years to come.
Please let us know if you've included a gift for the Estes Valley Land Trust in your will or trust or by beneficiary designation. Providing us with documentation is the best way to ensure that your wishes are honored.
Gifts by Beneficiary Designation
You can name the Estes Valley Land Trust as the transfer-on-death beneficiary of a number of different types of assets, including retirement accounts, life insurance policies, certificates of deposit (CD's), bank accounts, brokerage accounts, and real property.
This is one of the easiest ways to give the Estes Valley Land Trust a meaningful part of your estate. It often can be done without a formal estate plan or lawyer, and you can change your beneficiary later if you wish to do so.
For making the Estes Valley Land Trust the beneficiary of a life insurance policy or investment account, ask your insurer or investment firm for a beneficiary designation form, then complete and submit the form. Beneficiary forms often are available online.
You can give your house or other real property in your estate to the Estes Valley Land Trust through a relatively simple beneficiary deed (see Real Property below).
Please let us know if you have named Estes Valley Land Trust as a beneficiary by contacting Jeffrey Boring at jeffrey.boring@evlandtrust.org or by calling 970-577-6837. This will allow us to thank you for your gift and tell you how much of an impact it will make for the Rocky Mountains, for decades to come.
Retirement Plan: Retirement assets, including 401(k)s and IRAs, are among the most heavily taxed to your heirs, making them an ideal opportunity for charitable giving once you no longer need the assets. As a 501(c)3 non-profit, EVLT is exempt from paying the taxes that otherwise might be owed. Consider making EVLT a beneficiary of your retirement assets while leaving other less-heavily taxed assets to loved ones.
With a retirement plan gift:
You continue to take regular lifetime withdrawals.

You maintain flexibility to change beneficiaries at any time and for any reason.

You avoid the potential double taxation on assets left in your retirement account.
Federal income taxes to your loved ones can be as high as 35 percent, but naming EVLT as a beneficiary of your retirement assets generates no income taxes. EVLT is tax exempt and eligible to receive the full amount, bypassing any income taxes.
Life Insurance Gift: Life insurance is an affordable way to leave a gift for EVLT while you receive tax savings benefits during your lifetime.
Benefits of a life insurance gift include:
A significant gift from disposable income at a fraction of the value.

Upon making the gift, the donor typically pays no ordinary income tax on any gain in the policy.

The transfer itself is simple and cost-efficient. Any size or type (e.g., term insurance, ordinary, variable, universal, or combination) of policy can be used, and absolute assignment forms are cost-free

.

Insurance gifts transfer outside probate, thus avoiding the cost, delay or uncertainty of probate.
CDs, Bank and Brokerage Accounts: One of the easiest ways you can help preserve wild places is by making EVLT the beneficiary of a certificate of deposit, a checking or savings bank account, or brokerage account. Simply request a Pay on Death (POD) or Transfer on Death (TOD) designation form from your financial institution.
Donor Advised Fund Residuals: Final distribution of contributions remaining in a Donor Advised Fund is governed by the contract you completed when you created your fund. We hope you consider naming EVLT as a beneficiary of your account. Or, you can name us the beneficiary a portion of the account value, leaving the remaining portion for your heirs to continue your environmental legacy.
Real Property: Many states, including Colorado, provide for non-probate transfer of real property to a designated beneficiary. In Colorado, the process involves a beneficiary deed, which typically is a one-page document. While a notary public and recording of the deed are required, the process otherwise couldn't be simpler. If you feel comfortable doing it without a lawyer, the only costs involved are any notary fee and a relatively inexpensive deed recording fee. For more information, talk to your lawyer or search online for Colorado Revised Statutes § 15-15-401 et seq. or for Colorado beneficiary deed.
Gifts in a Will
A gift in your will or trust is one of the easiest and most popular ways to be a champion for the environment. It takes just a few sentences in your will to set up a gift. If you don't have a will, you can create one by hiring an attorney or by using a low-cost or free online service. 
With a gift in your will or trust:
You retain control of the assets making up your gift.

You can change your gift at any time and for any reason.

You can direct your gift to be used for a specific purpose (be sure to check with us to make sure your gift can be used as intended).

You have no upper limit, under current law, on the estate tax deduction for your charitable gift in your will for EVLT.
Here are the most popular ways to leave a gift in your will:
A general bequest leaves EVLT a gift of a stated sum of money in your will or trust, typically marketable stocks or cash.
A residuary bequest leaves a gift to EVLT of a percentage of the "rest, residue and remainder" of your estate after other bequests, debts and taxes have been paid.
A specific bequest leaves EVLT a specific dollar amount or stated fraction of your estate or a specified gift of property.
A contingent bequest leaves EVLT with a stated share of your estate, only if a spouse, partner, family member or other beneficiary does not survive you.
If you already have a will and would like to change it to leave the Estes Valley Land Trust a gift, an attorney can set up a simple codicil without having to write an entirely new will. 
Colorado Gives
A day of charity across the state!
Colorado Gives Day is the Tuesday in December following Giving Tuesday, where Coloradans across the state support the chaities that make this state so great. This is the biggest fundraising day of the whole year for EVLT.
You can donate all year long through ColoradoGives.org and schedule your donation to support the land trust.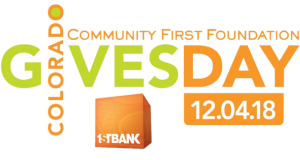 In-Kind and Partnerships
Community-Supported Conservation
Many local businesses generously donate time, products, and money to the Estes Valley Land Trust. Food, drinks, and event space are the most common in-kind donations, others have started fundraisers for us or offered discounts for non-profits.
If you want to help preserve the valley by partnering or donating, contact us!
Amazon Smile
Support EVLT without paying a penny!
Amazon donates .5% of each purchase you make on Amazon when you shop from smile.amazon.com and select the Estes Valley Land Trust as your charity.
Sign up here: smile.amazon.com/ch/74-2465136