The Land Trust works from Drake and Glen Haven through Estes Park to Rocky Mountain National Park and the Wild Basin area. The smallest easement is less than an acre, the largest 1,362 acres. Most of the EVLT conservation easements are on private property with access only through permission of the landowner. 
A few EVLT easements are on public lands and can be accessed, including Hermit Park Open Space and Centennial Open Space at Knoll-Willows near downtown Estes Park. Also, Mrs. Walsh's Garden is owned by the Town of Estes Park and publicly accessible. Whether you are enjoying the view or enjoying your feet on the ground, these easements are designed for your benefit as part of the public good.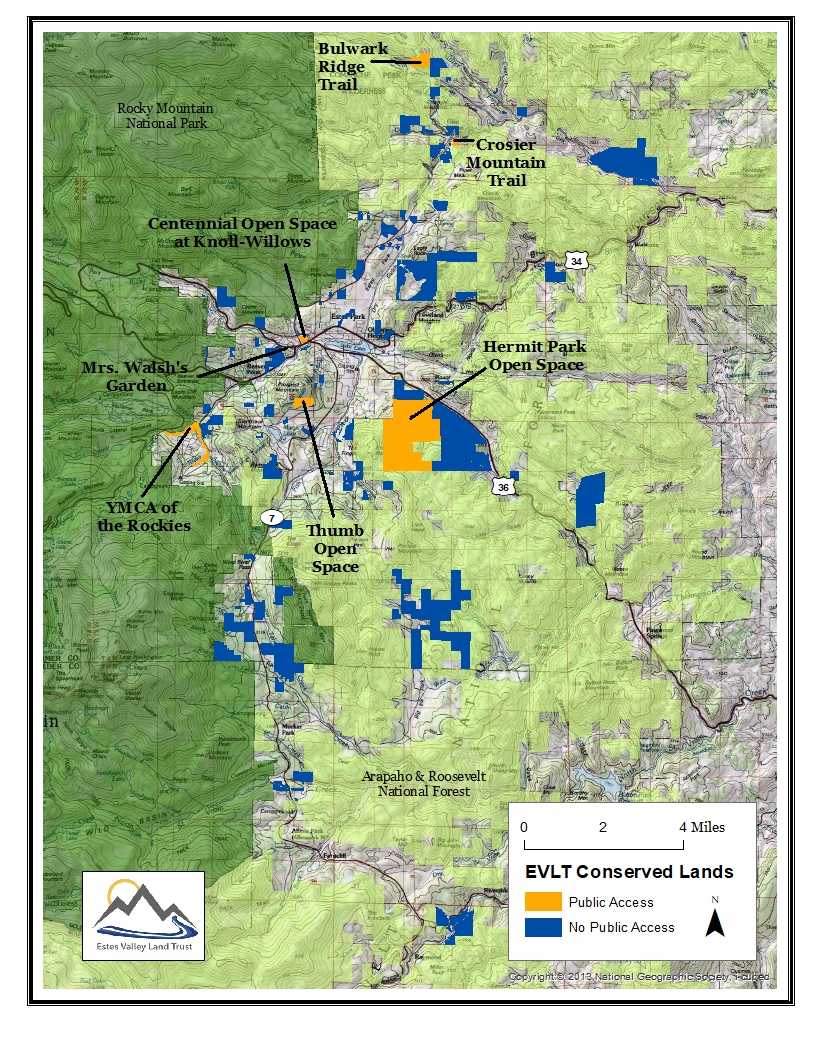 Gateway
EVLT's first conservation easement was recorded in 1989. A property covering seven hillside-acres south of the Big Thompson River, across from the downtown Riverwalk on East Elkhorn Avenue, was zoned for 14 residential units. EVLT arranged to purchase the riverside property in cooperation with the Town of Estes Park and Estes Park Urban Renewal Authority (EPURA). The Land Trust contributed $10,000 and deeded its interest to the Town and EPURA in exchange for the conservation easement on the parcel.
Meadowdale Ranch
One of the largest conservation easements in the Estes Valley originated in the 1990s. The 1,168-acre Meadowdale Ranch, just outside Estes Park on Highway 36, had the potential of being subdivided into thirty-six 35-acre ranchettes. EVLT spearheaded negotiations, a huge local petition campaign, and a highly successful capital campaign that led to finalization of the Conservation Easement and permanent protection of the highly visible land in 1995.