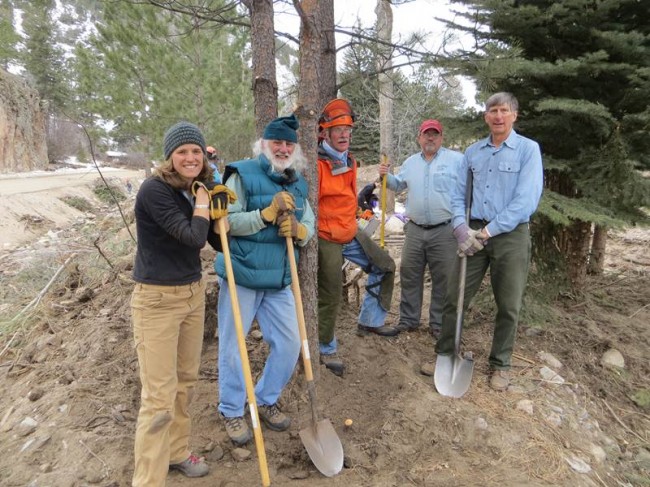 The effects of the September floods will undoubtedly be felt for years to come here in the Estes Valley.  Because we have such a fantastic network of committed members and volunteers, EVLT is in a unique position to help rebuild the community following such a widespread disaster.  We have received a $35,000 grant from the Community Foundation of Northern Colorado to purchase plant materials such as native seed mixes and willows to assist with restoration, and we are coordinating volunteer efforts to do the restoration projects.  We are also pursuing further funding to help the wider community.
EVLT is coordinating volunteer work days through the spring and summer.  We are asking YOU to join us in restoring our treasured open space and our community!  The work will be outdoors and will involve debris cleanup, silt removal, reseeding, and replanting vegetation.
Please respond to us by email, phone, or the website contact form (http://estesvlt.org/contact-us/) to be put on our volunteer list!  By having your name on the list, you'll hear about all of the volunteer days we schedule and you are welcome to join us whenever possible.
Our next volunteer opportunity is Saturday, March 22nd.  We will be assisting with cleanup in Glen Haven, which desperately needs help!  Please let us know if you are interested in joining us on this date, as well as if you are interested in future flood recovery volunteer opportunities.  We will meet at the EVLT offices at 9:00 am and will be back to Estes Park by 1:00 pm.
The scheduled volunteer days are:
March 22nd
April 12th
April 23rd
Thank you!!
We are on Facebook now – "Like" us to receive the most up-to-date information! https://www.facebook.com/estesvlt