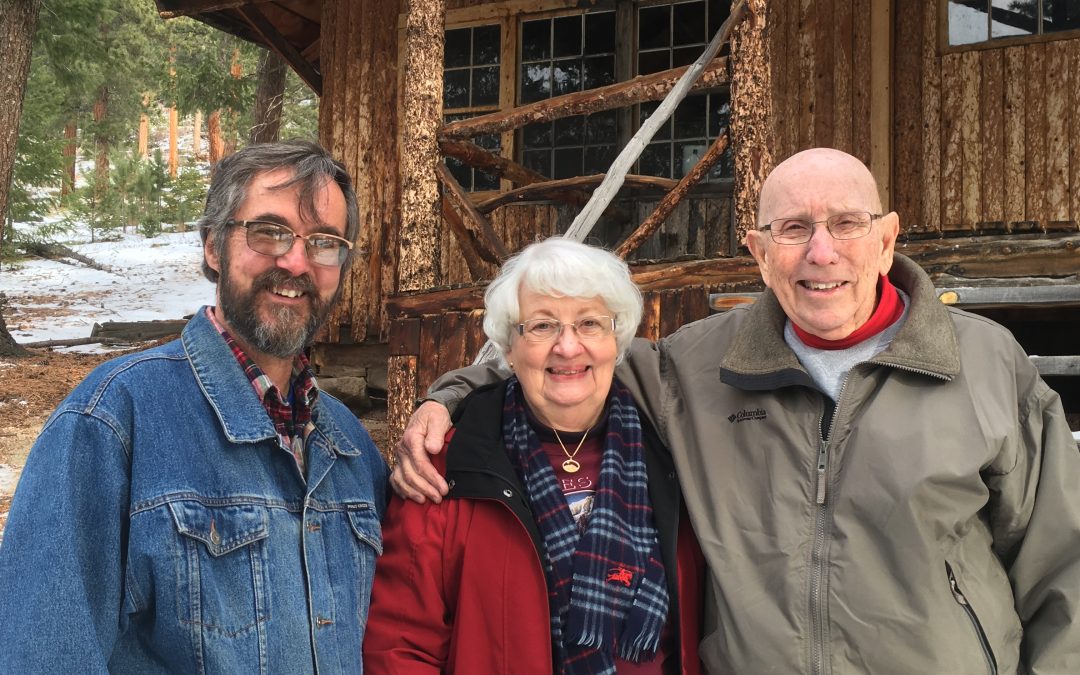 Estes Valley Land Trust is pleased to announce that it has closed on a second newly conserved property in two weeks. The Crownover Conservation Easement, located on Jacob Road near Little Valley, has been forty years in the making.
Leo Weber, Estes Valley Land Trust Vice President, first met Norris and Judy Crownover in 1976, as a young woodworker. "Norris was gracious and shared his cabin with me," Weber said.
"I was a young guy and had just moved to Estes Park. I was living out of a van and Norris offered to let me stay in his cabin," recalled Weber. "I couldn't pass up the offer."
Now the cabin, and the forty acres on which it sits, are permanently protected with a conservation easement held by the Estes Valley Land Trust. The easement closed on December 9th.
The Crownover Conservation Easement has dramatic views into the East Fork of Fish Creek and Little Valley. Also it can be seen from prominent recreational areas, including Twin Sisters Peaks in Rocky Mountain National Park, The Crags, and Kruger Rock in Hermit Park Open Space.
The property is surrounded on two sides by the Arapaho/Roosevelt National Forest and is adjacent to the Cheley Camp property to the south.
"The fact that this new conservation easement borders the Cheley Camp and buffers them from major development activity is very exciting for us," said Jeffrey Boring, Estes Valley Land Trust Executive Director.
"Cheley Camp is a fixture in Estes Park and thousands of kids over the years have fallen in love with the outdoors and Estes Park through the camp," stated Boring. "We're glad we can give back by helping protect their borders and ensure the camp remains in a natural setting."
The Crownover Conservation Easement is located in a dramatic setting of large rock outcrops and open forests and contains an intermittent stream.
The property has been identified by Colorado Parks and Wildlife as providing habitat for deer, elk and bighorn sheep. The conservation easement ensures these natural features and the wildlife habitat they provide will be protected forever.
"It's so nice to be able to work with Leo and donate this conservation easement to the Estes Valley Land Trust," said Norris Crownover. "The forty acres and old cabin have been a special place for us over the years. We have lots of good memories up there and it's good to know it's not going to change much."
Weber and Boring expressed their appreciation to the Crownovers for their commitment to preserving the beauty of the community.